Do you know what you can buy on eBay? It is no exaggeration to say that anything can be bought here, just like Taobao from China. eBay has 37 independent sites and portals in the world now, covering more than 200 countries and regions and nearly 300 million users, supporting 23 languages around the world, and the most gratifying thing is that the price on eBay is very affordable. When you shopping on eBay, be sure to save even more money by taking advantage of the eBay promo code or coupon. In addition, don't forget to earn up to 4.6% cashback from Extrabux.com!
[[copyrightcover: Ryan Fanshaw on flickr.com (CC BY-ND 2.0) ]]

About eBay
eBay is an American multinational e-commerce corporation based in San Jose, California, that facilitates consumer-to-consumer and business-to-consumer sales through its website. It was founded by Pierre Omidyar in the fall of 1995 and became a notable success story of the dot-com bubble. Just like Taobao in China, eBay has buyers and sellers. You can browse through categories like Antiques, Boats, Clothing & Accessories, Computers & Networking, Jewelry & Watches, Video Games. and more. What is better than Taobao is that it is for global users, the website supports 23 languages.

What is Extrabux?

Founded in 2006, Extrabux is one of the top three cashback websites in the US. It has more than 200,000 users worldwide and has cooperated with 10,000+ Chinese and foreign e-commerce websites to provide up to 30% cashback! At Extrabux, you can enjoy convenient rebates and cash withdrawals, the most up-to-date product offers, and reliable customer support. (More information about Extrabux)

eBay is a partner of Extrabux. After joining Extrabux, through Extrabux's unique links jump to the eBay site for your shopping, you can get up to 4.6% cashback when you complete your order. New customers will get $20 welcome bonus!
Cashback:temporarily unavailable
Cashback:Up to 2.5%
Cashback:Up to 4.6%
Cashback:temporarily unavailable
Cashback Guide on eBay
Step 1:Join Extrabux for free
If you want to get a high cashback in Extrabux smoothly, you need to register an account first. You can quickly complete the registration by providing your email or mobile phone number and then set a password. After completing registration, a $20 welcome bonus will put into your personal account!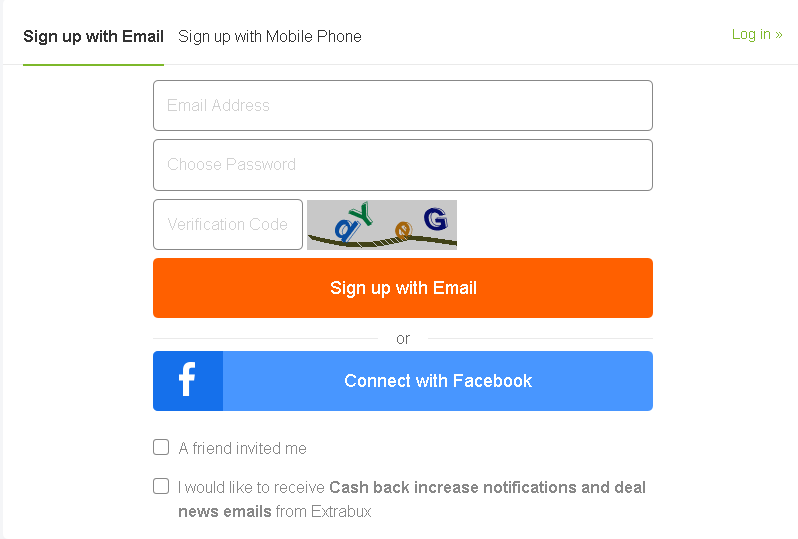 Step 2:Find eBay on Extrabux
Enter "eBay" in the search field in the upper right corner of the homepage to find the merchant. There are different sites on eBay, you can select the site you want to shop, and then click to visit a specific cashback page.

Step 3:Starting shopping

Click the "Start Shopping" button or choose a coupon from the eBay cashback page. You are then redirected to the eBay shopping site.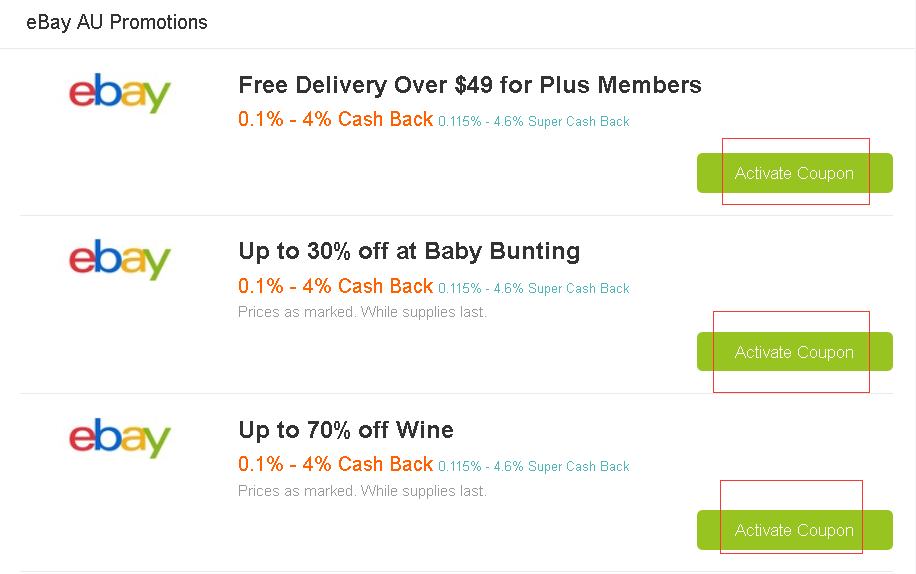 Step 4:Complete your purchase at eBay.
Find items you want to buy at eBay and checkout normally (such as entering promo codes or gift certificate numbers, if any).
Step 5: In 1-7 days, your cashback will be added to your Extrabux account!
Using Cashback Boost Card will increase the cashback ratio of eBay.
Where to Get Cashback Boost Card?
1. Login your account every Monday, Wednesday, Friday, and then get Cashback Boost Card from "Bonus Page".

2. With Lucky Draw Card (Extrabux will send the cards frequently), you also have a chance to get Cashback Boost Card. (After you log in, you can find your Lucky Draw Card in the Card Page).

3. Place more than 1 order each month, get 3 Cashback Boost Cards;Place more than 3 orders each month, get 5 Cashback Boost Cards;Place more than 6 orders each month, get 10 Cashback Boost Cards.

4. Buy Extrabux VIP Card (including Student VIP & Monthly VIP).

As long as you are a student at school, you can get a free whole year long VIP Card worth USD 199. With that VIP Card, all your new purchases made within the next whole year will be boosted automatically to the super cashback level. (How to Get Student VIP Card?)
If your monthly order amount exceeds USD 1000, the VIP card of the next month will be automatically received and activated, and the order will be automatically upgraded to Super rebate next month. In Addition, among the daily Lucky Draw Card, there is a chance to draw a VIP card.
Don't forget to use Cashback Boost Card on one of your purchases, your cashback will be boosted immediately. (How to Use Extrabux Cashback Boost Card to Get Extra Bucks)
Extrabux FAQ Summary
How do I make sure I always earn cashback? (DO's and DON'Ts)
DO enable cookies on your browser while you are shopping. Stores use cookies to track your purchase so you can get cashback from Extrabux!


DO click through to the store from Extrabux. Clicking to Extrabux from other websites or typing the store's website directly into your web browser without going through Extrabux will invalidate your cashback.


DO make sure your shopping cart is empty when you click through to the store from Extrabux. In order to earn cash back, some stores require that your shopping cart be empty when you click from Extrabux to the store's website.


DON'T use coupons from sources other than Extrabux. Some stores track the codes you use and don't allow cashback if you use a code from somewhere other than Extrabux.

DON'T delete cookies while you are shopping. We know that some people occasionally delete their browser cookies. Unfortunately, if you happen to delete cookies while in the middle of an Extrabux shopping session, the cashback will not be tracked.


DON'T close the store website while shopping. If you do close the window, you must go back to the Extrabux store page and click through from Extrabux to start a new session.

DON'T checkout multiple times at an online store without clicking back through Extrabux. If you want to keep shopping after checking out the first time, you must go back to Extrabux and click back through to the store again.
How long does it take for cashback to become Available?
Your cashback earnings will post to your account 1-7 days after your purchase, but the cashback for the purchase will not be available for payment until 90 days after the purchase. After 90 days, your cashback becomes Available and you can receive a payment. Extrabux requires 90 days because most stores take up to 90 days to report returns and order cancellations.
The validation period of certain stores may exceed 90 days. If your purchases didn't move to "Available" after 90 days, please be patient and Extrabux will contact the stores for validation as soon as possible.

How do I receive my cash back payments?
Once you have earned at least $10 Available cash back and made at least one purchase (the available cashback earnings exceed $1), you can receive a cashback payment. To request a payment, first select a payment method, and then log in to your Extrabux account and click the "Request Payment button".

You can receive cash back payments via check in the mail or through PayPal. Extrabux also gives you the option of requesting Amazon.com eGift Cards or donating your cashback to a charity. Payments are typically sent within 5 business days. PayPal and Amazon gift card payments can take another 24-48 hours to appear. Check payments can take another one or two weeks to your U.S. mailing address.

Can I refer my friends to Extrabux?
Of course, you can. When you refer a new member to Extrabux, you earn a $5 bonus, plus match 5% of your friend's earnings for the first year and give it to you. Your friends get a welcome bonus when they sign up too!