Reebonz is a trusted online platform for buying a wide range of luxury products. Members can shop on web or mobile for new and used luxury merchandise. Reebonz pretty much plays the role of an outlet mall, but online. You can get your items for a cheaper price. By adding coveted, luxury items to their product mix, Reebonz makes the wait even more worthwhile. Great experience, product true to description, fast delivery. You couldn't have asked for an easier purchase of a loved bag. In this post I'll show you a simple shopping process from Reebonz.
About Reebonz Official Website
Reebonz is a trusted online platform for buying and selling the widest range of luxury products. With an exciting lineup of coveted designer brands, personalised services, and buying and selling options, they make luxury accessible by giving you more from the world of luxury. Our seamless shopping experience ensures that you are assured of getting more when you buy and sell with Reebonz.
Samuel Lim, Daniel Lim, and Benjamin Han co-founded Reebonz in March 2009, starting the company with 18 employees. Reebonz targets customers in the Asia-Pacific region, and is one of the most established online luxury sales companies in Southeast Asia consisting of over 300 staff, with business operations in eight countries in Singapore, Malaysia, Indonesia, Taiwan, Hong Kong, Thailand, Australia and South Korea.
Reebonz offers an extensive range of new and pre-owned luxury bags, accessories, watches, jewellery and shoes from coveted designer labels and a curation of the world's finest merchants sold in their exclusive sale events. To add convenience, members can also access these sale events and shop on the go with Reebonz app, available for iPhone, iPad and Android users.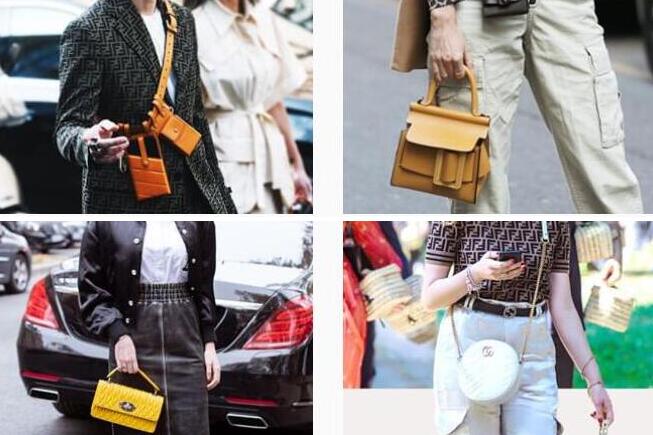 The Advantages Of Overseas Online Shopping on Reebonz
1) International shipping + Credit Card/ Alipay / WeChat / UnionPay
Reebonz is very friendly to the oversea customers. The official website is both in Chinese and English. They support worldwide shipping and accept Alipay, WeChat and UnionPay payment. In addition, Reebonz also supports Visa, MasterCard, Paypal etc.
2) Free tax and free shipping
There are no postage and customs fees for global postage.
3) Complete brand
The prices are very low and the brands are rich. Reebonz offers an extensive range of new and pre-owned luxury bags, accessories, watches, jewellery and shoes from coveted designer labels.
4) Beautiful packaging
Reebonz orders will be carefully packed in our exclusive packaging with standards that match or exceed luxury retail stores.Designer bags will be delivered in our signature black Reebonz boxes.
5) Fast shopping
3 working days in the United States. Customer service is online for 24 hours. It is very convenient to return and refund. If you don't like your item, you can apply for a return within 7 business days without reason.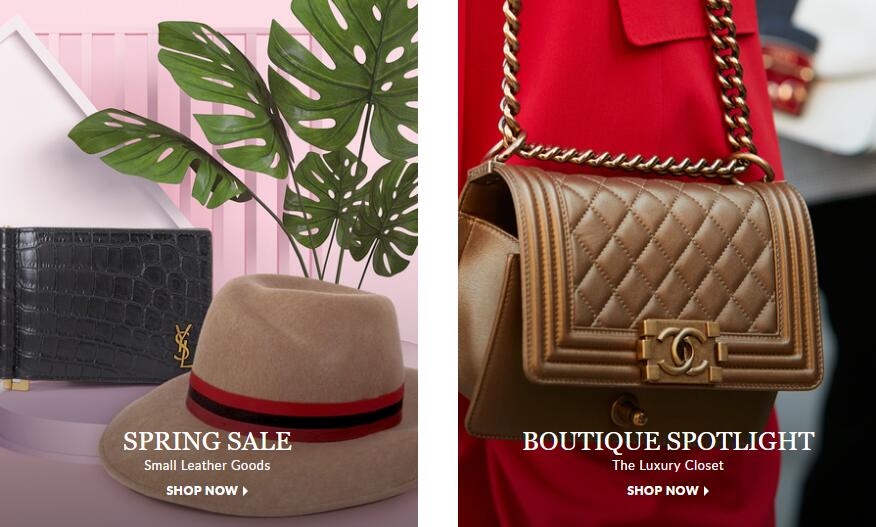 Main Brands on Reebonz.com
Alexander McQueen | Burberry | Chanel | Chloe| Fendi | Gucci | Loewe | Stella McCartney | Valentino | Kenzo | Moncler | Canada Goose | Theory | Balenciaga | Prada | Saint Laurent| Givenchy...
Reebonz Official Website Latest Offers
1. FREE DELIVERY on all orders
2. Spring Sale: EXTRA 30% OFF, use coupon code SLASH30
3. Spring Sale: EXTRA 20% OFF, use coupon code SPRINGSALE
4. Sale: up to 60% off
5. Outlet: up to 60% off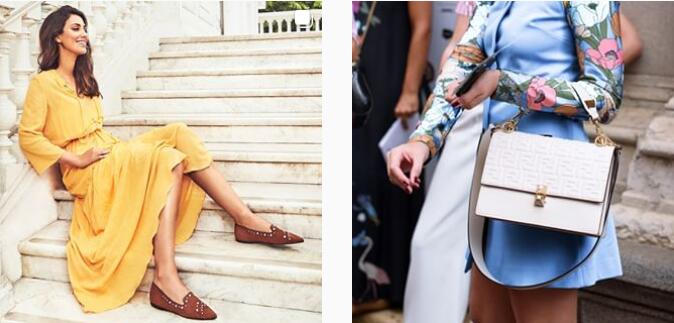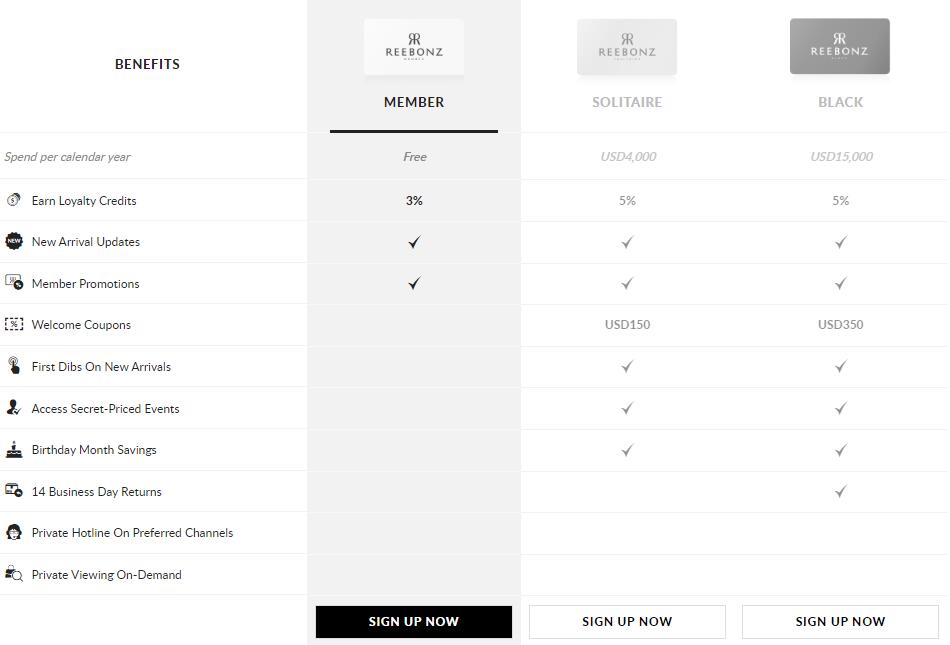 1. Reebonz official website supports direct ship to worldwide, so shopping at Reebonz is so easy. Before proceeding, start by checking if Reebonz ships to your country.
2. Regarding payment methods, the US website supports credit cards: Visa, MasterCard, American Express, UnionPay; Alipay,WeChat Pay, Affirm,PayPal.
Order Process on Reebonz official website US
STEP 1: Sign Up For A Cash Back Service
Did you know that you can get an extra 4% super cash back on your Reebonz US site order by using a cash back service? Extrabux is a international cashback shopping site, offers up to 30% cashback from 10000+ Stores. There's a generous $20 bonus for signing up, although you'll only receive this in $5 chunks as you earn more cashback by using the site. You can also get a $5 bonus for referring a friend, plus 5% on the cash back they earn in the future. You can receive the money through PayPal, check, or credit card credit, wechat and so on.

STEP 2: Sign In or Register For Reebonz

1)New customer choose Register

2) Fill the information & choose your country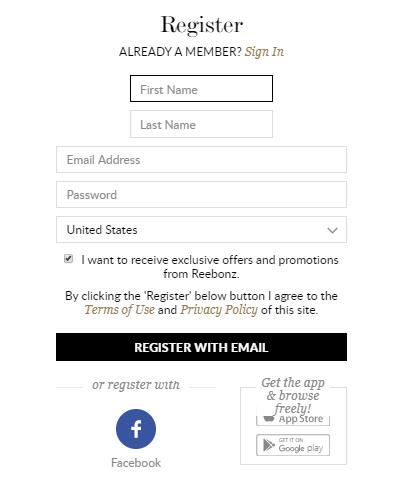 STEP 3: Buy Your Product(s)From Reebonz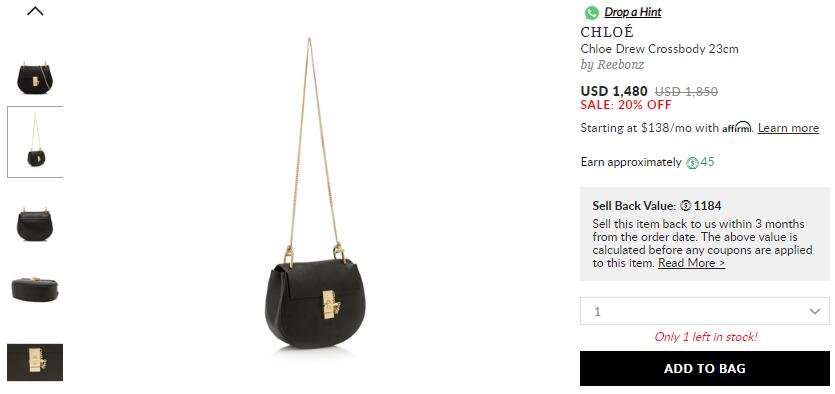 STEP 4: View Your Shopping Bag

STEP 5: Add Your Shipping Info

1) Click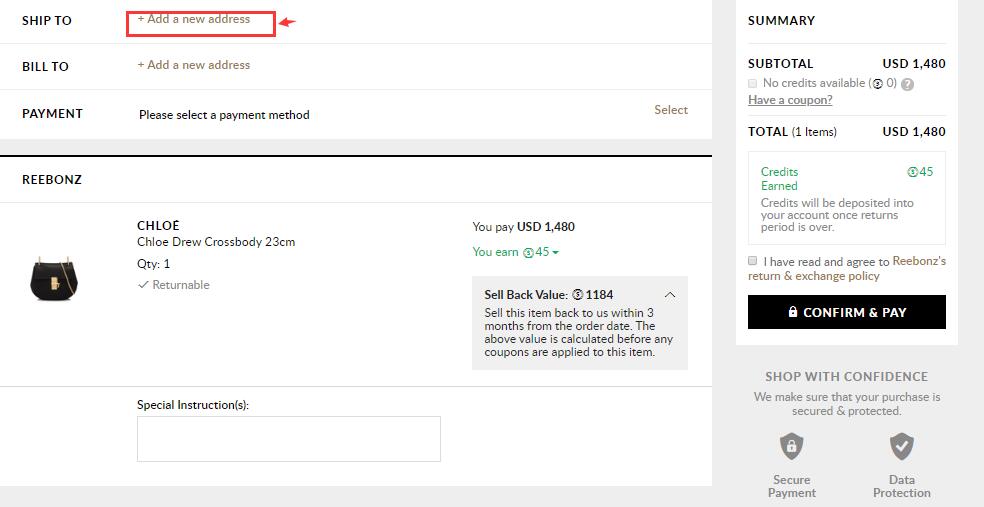 2) Fill the shipping information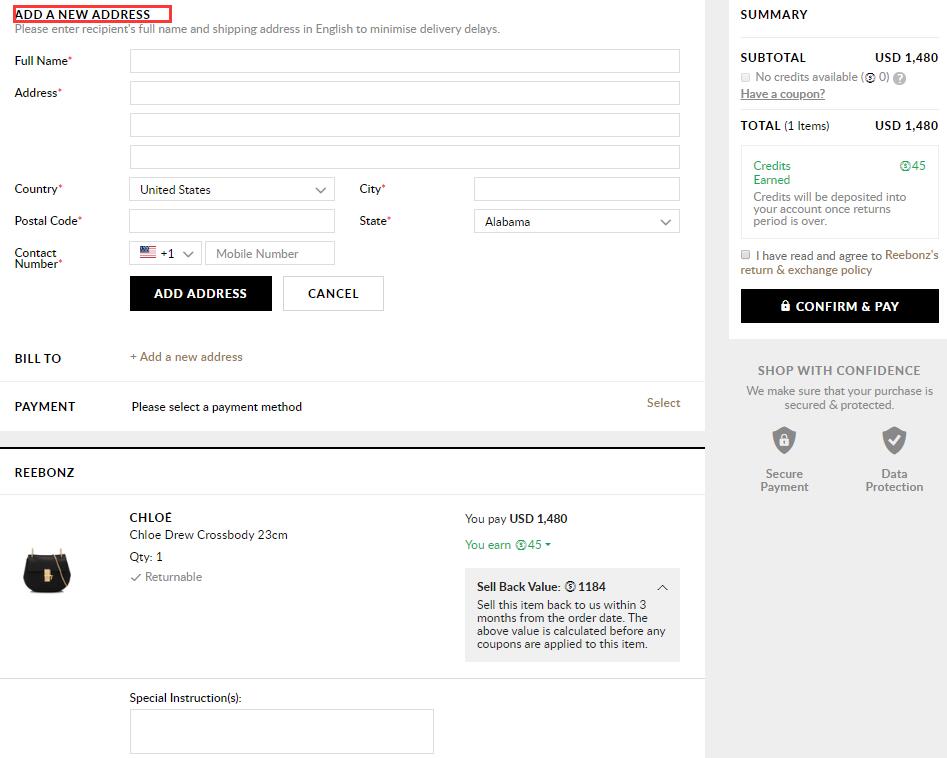 STEP 6: Add Your Billing Info

1) Click

2) Fill the Billing information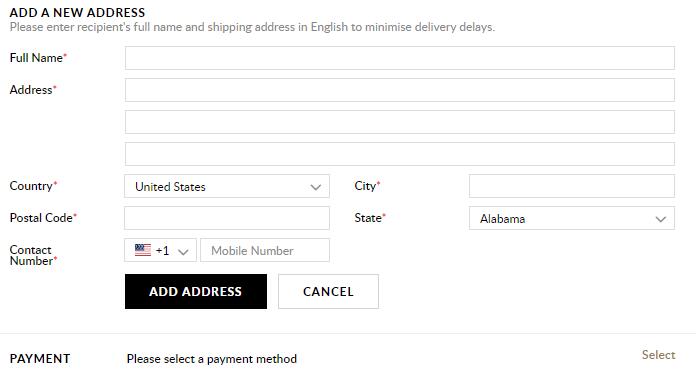 STEP 7: Choose Your Payment & Enter Payment Details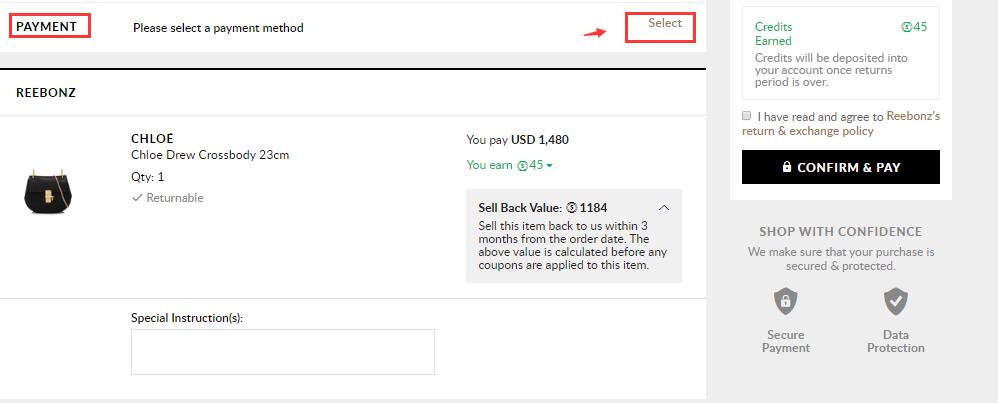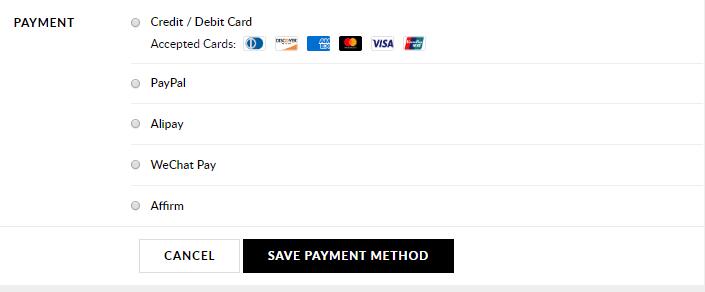 Eg:I choose credit card to pay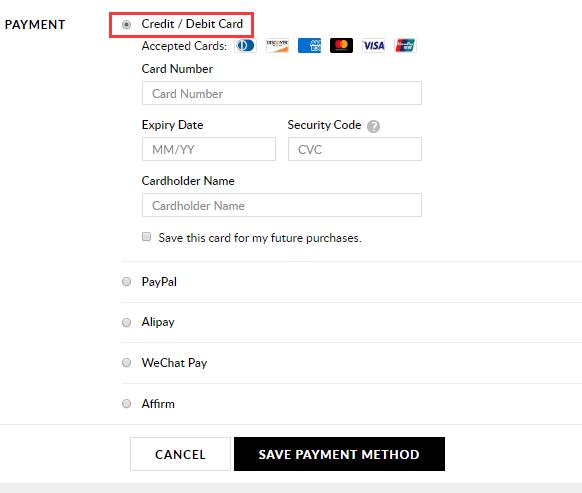 STEP 10: Complete Your Order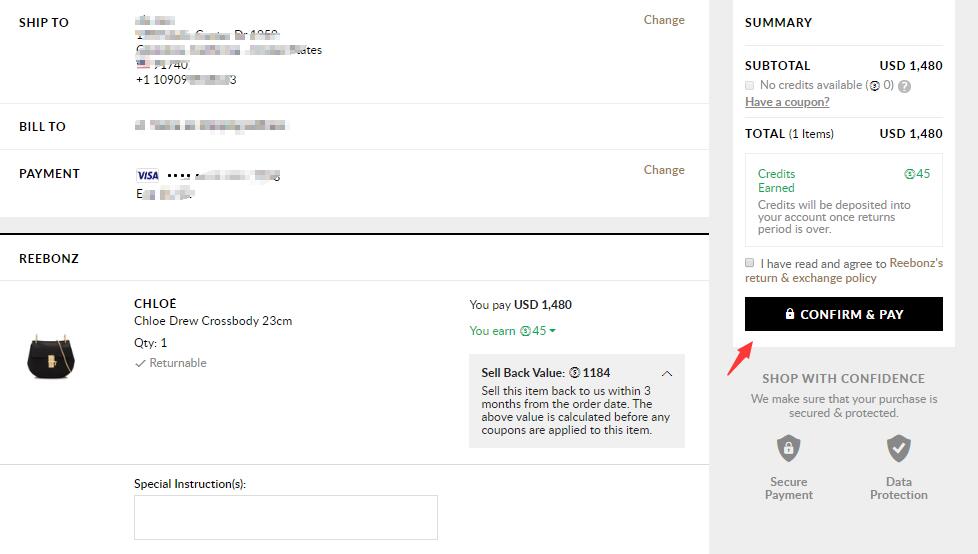 You will receive an email from Reebonz when your item has been shipped. Simply click on the link in the email and you will automatically be redirected to Account > Orders. There is a "Tracking Number" in the delivery email. After clicking, it will automatically jump to the express query page, and you can know the latest status of the package in real time. If you do not receive the email, you can contact customer service 400-6256-839 (service time: 9 am-6 pm). Email: conciergecn@reebonz.com.
Freight Forwarders Advice
Generally, the US site has more product styles than other local sites. In addition, direct mail shipping costs are more expensive. Therefore, most people will choose freight forwarders. Here, I'll show you a simple process to get any item from Reebonz or any other American store shipped to your location, in any country worldwide.
1) Register an account on the freight forwarder's website to improve personal information.
2) Register Extrabux:After signing up, find the merchant you want buy on Extrabux, and reach the merchant page through the link on Extrabux, so that after shopping succeeds, you can get up to 30% cashback.
3) Find the appropriate freight transportation modes and shipping address on the freight forwarder's website. Different ways of transportation costs, taxes and shipping times vary. Regarding the freight forwarders, it can be selected according to the appropriate local company.
4) Fill in the forwarding address and forecast information: fill in the detailed address information on the freight forwarder's website to the website's "Shipping Address".
After the order is placed on the website successfully, you need to fill in the information of the product name, product category, quantity, specification, actual payment amount, etc. that you have bought online.
5) Copy and paste the logistics order number to your freight forwarder account: when the order is shipped, your can track & trace your order at the registered mailbox.
6) Pay the freight and taxes for freight forwarders: When your freight forwarder receives the package, you will receive a text message or email notification and pay the relevant fees as soon as possible.
How Do I Return An Item At Reebonz?
Return requests have to be submitted within 7 business days from the date of receipt. Item must be in its original purchase condition, including the original product packaging, manufacturer's containers, documentation, warranty card(s), manual(s), and all accessories. All packaging must be unmarked and not defaced in any manner. Any item that you received with tag(s) attached must be returned with the same tag(s) intact. Item purchased as part of a set or multi-item pack has to be returned as a whole set.
Reebonz do not accept returns for intimates, earrings and undergarments due to hygiene reasons.
Reebonz item(s):
Step 1: Click on My Account > Order
Step 2: Under your Order Number, click on the 'Return Item' button
Step 3: Select your reason for return and collection date and time. A free pick-up service will be arranged to collect your item(s) from the address specified.
Also, you will receive email notifications to inform you at these stages:
They have received your request,
They have received your item(s) at their facility and are processing your request; and
Your refund has been successfully credited to your account.
Boutique item(s):
Step 1: Log into your account
Step 2: Under My Account > Orders and then 'Return Item'
Step 3: Fill in the return form before printing the airway bill and return invoice
Step 4: Book a pickup to collect your returned item